The Donati Family Tasting Room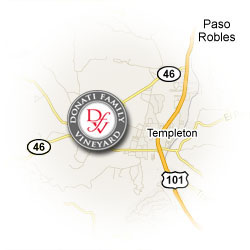 Located on the corner of Highway 46 West and Vineyard Drive, the Donati Family Tasting Room is a popular destination along the Highway 46 Wine Trail. The three story building looks like a European Chateau nestled in the hills of Templeton, CA.
As a full production Winery, our Paso Robles Tasting Room is a great stop to make on your next Central Coast Wine Country excursion. Give us a call before you visit and we will be more than happy to accommodate any size group. If tasting great wine is what motivates you, drop by and try our wines, discover what we are all about, and take home some of the best wine on the Central Coast!
Because wine tasting can be hard work, Donati Family Vineyard offers a great spot to relax among the vines. Tasting Room guests are free to use our picnic grounds and Bocce courts.
We hope to see you soon. Please contact us if you have any questions - we're here to help!
Can't make it to our brick and mortar Paso Robles Vineyard location, but still want to try our wine? No problem! We offer our wines for sale online.
You can browse our selection here!
Hours of Operation:
11am - 5pm daily for Pick Up Orders
Are you Planning a Visit to Wine Country? Make an Appointment
Please call or fill out our appointment request form to make an appointment ahead of your visit.
805.238.0676 // info@donatiwine.com